There is something so special about the boho-chic look that girls simply cannot get enough of it. From Hollywood celebrities to models and more, girls just love to showcase their spirit in the freedom of a bohemian look.
If you too want to try out the look this season, then we are here with a list of ideas which you need to have in order to get that perfect look. Take a gander and see what you need to complete your boho vision–
Maxi skirt
An essential accessory to get a boho-chic look is a plain and simple maxi skirt. Choose a simple, solid colored skirt that can be worn with almost any top wear. You can pair up this skirt with a graphic t-shirt or a V-neck top with a floppy sun hat. Or even better, pair it up with a flannel/chambray top and canvas sneakers. The list of ideas to carry this skirt is never ending.
Maxi dresses
Another great thing for you to have to complete your boho-chic look is a maxi dress. Printed maxi-dresses are always a favorite for girls to try when it comes to bohemian look. You can grab one and pair it up with matching accessories and a chic cardigan to create an attractive look.
Tunics and blouses
One of the first things that come to mind when you talk about something to match with the maxi skirt is a tunic top. You can go for a wrinkled cotton top with embroidery to leave a loud impression. And if you want to keep it subtle and stylish, then a basic t-shirt type tunic is just the right pick for you.
Footwear
To end the flip flop dilemma, you can simply pick the godsend gladiator sandals to wear in your bohemian avatar. Knee-high gladiators can be a great option if you want to create a bold look. Similarly if you are looking to keep it a more chic, the having a smart pair of sneakers won't be a bad idea either.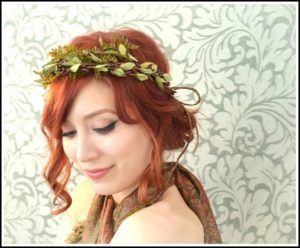 Accessories
Just like every other look, the boho-woman look cannot be complete unless you choose the right pair of accessories to go with it. Headbands and head wraps are a must have to create a stylish look. You can find plenty of style options in these kinds of head gear. Choose the one that goes well with your face structure and personal style preference. As a matter of fact, you can choose a floppy straw sun hat to make the perfect boho avatar.
The boho-chic look never goes out of fashion. Whether you are in the mood of getting a different look while going on a picnic or just want to have some fun and try a different dressing avatar, this look can be a perfect idea.
So, what are you waiting for? Go ahead and grab all these items to create that boho chic look. And you are definitely going to be the eye candy in your group wherever you go for an outing.