Easter is just a few days away! And how else to celebrate the holiday that brings so many together? Why, considering what's for Easter dinner this year, of course! And to help you enjoy this festival to the fullest, we are going to share with you some quick recipes to try and cook for Easter this season.
So, let us take a look at some fantastic cuisine!
Roasted Leg of Lamb
The no-fuss dish, roasted leg of lamb amalgamated with carrots, beets and sweet onions can be your go-to dish for every Easter dinner. To prepare the dish, all you need to do is season the meat, and leave it to rest for 12 hours. Pop it up in the oven, and garnish it using roasted beets, sweet onions and carrots. Bake for 15-30 minutes at 350 degrees, depending on how rare you want the meat to turn out. Trust us when we say the aroma that this leg of lamb will present is simply going to leave your family members in awe. And the flavors are going to leave them wanting for more.
Garlic Herb Roasted Chicken
The second name that we have on the list here is another simple recipe with an amazingly beautiful presentation. To cook the roasted chicken, you can begin by rubbing a mixture of parsley, rosemary, sage, and thyme herb under the chicken skin. The mixture is going to permeate underneath, creating delicate and subtle tastes which you are simply going to love. Bake for 10-15 minutes at 450 degrees. Infuse the roasted chicken with aromatic apples to create a sweetness rich, earthy flavor.
Citrus Glazed Ham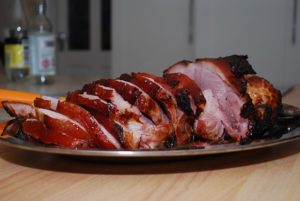 Another crowd pleaser for Easter dinner that we are going to list here is Citrus Glazed Ham. A bottle of fizzy, along with bottled orange-juice flavored soft drink forms the foundation of this dish, serving as the perfect ingredient for the glaze. Pour these beverages on the ham and keep them in oven for 20 minutes to cook at 375 degrees. Once it is cooked, let the ham stand for another 15 minutes and brace yourself for a salty-sweet flavor that you are simply going to love!
Braised Lamb Shank
The last name that we have on the list is a delectable delight, which in the words of famous Chef John Hall is 'so easy to make, you can make one ahead of time and warm it up right beforehand.' To prepare the Lamb Shank, you need to season the lamb using salt and pepper. Cook the meat in a sauce of crushed tomatoes, garlic, onion, carrots and a little bit of red wine until it falls off the bone. And serve it with potato hash brown to complete the meal!
There you have some of the most amazing, and easy to cook recipes for the Easter dinner this season. So, are you are ready to put on your chef's hat and bring these tasty dishes on the table to celebrate this festival of togetherness? Bon appetite!