Everybody loves doughnuts. The aroma of these freshly fried delectable delights is enough to make anyone's mouth water. But what if we told you that we recently discovered a completely new variety of doughnuts in the heart of Oregon, made by an upstart location with a great history to go along with it's fantastically tasty creations? Would you want to give this place a try?
Have we piqued your curiosity? Well, we're talking about NOLA Doughnuts –  a doughnut lover's dream out of New Orleans – based in Lake Oswego!
A bit about NOLA
Started in the year 2014 by Robert R. Herkes Jr, NOLA Doughnuts brings forward the most appetizing doughnuts you may have ever had in your life. Each of their handcrafted sugary doughnuts goes through a complete 3-day process before reaching your plate. This includes a specific layering technique that comes directly from classical French pastry making – New Orleans style.
The end result of this 3-day long process brings you a scrumptious fare of complex flavors, crisp outer texture and a deep richness. In other words – the signature La'ssant Doughnuts!
Heating up the local doughnut wars
In words of, Rob, " I can bet that the beignets that we serve could be a winning entry in the local doughnut wars, but I'd like to start small."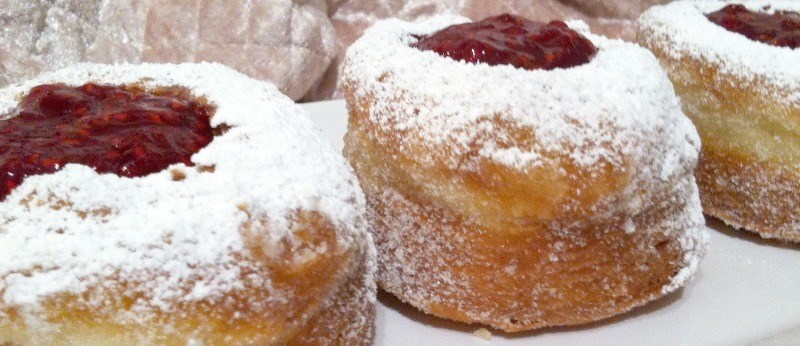 Even though it started off as a small pastry shop, the lines soon started to form outside waiting for the signature beignets! And, it did not take long for NOLA to start a delivery service to get their goods to places like Well & Good Coffee House, Zupan's Markets and UU Yogurt and other popular places. Today it stands tall as one of the most loved eating places in this part of the state of Oregon.
Why visit NOLA?
If you are doughnut lover, then NOLA Doughtnuts has plenty of things to offer. Bringing to your platter the culinary style of Lake Oswego, NOLA is going to take you into a world of such sweet surprises that you might never want to leave. And, why not? After all, these guys bring some of the best doughnuts you can ever expect to get in this part of the world, which is indeed saying a lot.
Right from the outset, you notice the blue-tiled signboard of NOLA with a fleur-de-lis emphasizing its roots. Walk right in and experience the sho' nuf culture of New Orleans, which makes this place truly irresistible!
Trust us when we say that coming this far just to taste these sugar doughnuts is worth it! And why not take some of their lemon, poppyseed, Madagascar and/or maple doughnuts home to enjoy the day after, or to give as a gift to someone special?
If you have a sweet tooth, wait no more. Visit NOLA – the doughnut heaven in Lake Oswego – and get ready to indulge your taste buds in the flavors of doughnuts that you won't soon forget, and will definitely crave for more!
Do you want crystal clear vision?

Oregon iLASIK & Refractive

can help you see the beauty of life with amazing clarity. For more information call 541.344.2010 or visit www.oregonilasik.com.