Health is the most important resource that human beings possess. Without good health, all the worldly things are simply meaningless. This is the reason that having a healthy lifestyle has become the need of the hour. Amidst all the work pressure and poor lifestyle habits, we have started to pay lesser importance towards employing healthy lifestyle habits. This is the reason that in this post we are going to talk about some simple morning habits that will pave way for a more active and productive life.
A glass of water early in the day keep a number of problems at bay!
We all know how important it is to drink sufficient amounts of water in order to keep our body healthy and keep all its vital functions working smoothly. But what most people don't know is that drinking a glass of water early in the morning when you wake up has added benefits. It aides in proper circulation of the nutrients within the body, serving as the transport system, and at the same time it also helps fight weight loss, flushing out toxins and keeping your skin healthy. Try making it warm water with a squeeze of fresh lemon juice for added flavor and feel-good!
Skipping breakfast is a BIG NO!
Breakfast is the most important meal of the day as it nourishes your body with the energy that is needed to fuel it for a strenuous day at work. Skipping breakfast is not wise, especially if you are a working professional. You cannot expect your body's machine to remain functional without it having sufficient amount of fuel. It also mitigates the need to eat a big lunch, which can weigh your productivity down after lunch has ended.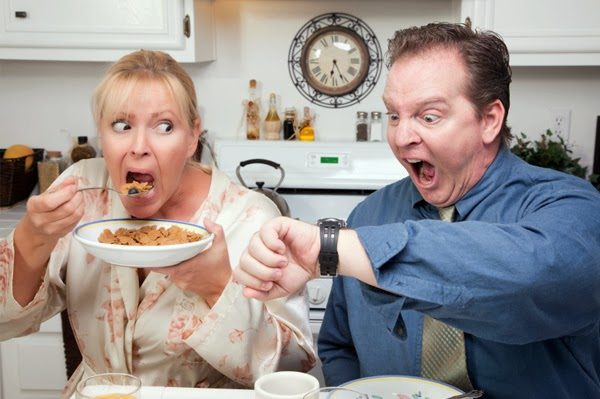 This is the reason that having a healthy breakfast meal becomes so important. Items like fresh fruits and protein rich items like eggs make a healthy breakfast. Apart from these, you can always throw in some complex carbs like whole vegetables, oats and more.
A little bit of a morning workout never hurt anyone
Yes, we know that you cannot afford to spare hours of workout in your busy schedule. But what you can do at the very least is spare just 30-45 minutes early in the morning to kick start the day with a bang. Can't you?
You can go cycling or running. Or, just some light exercise like jogging, yoga combined with mental exercises and meditation can set the tone for a healthy day, with a fresh mind that will keep you active throughout. You can also indulge in those heavy workouts or lifting heavy weights to build those muscles. The whole purpose is to keep your body active.
We all understand how important it is to keep our body healthy, but seldom do we realize that we are making ourselves prone to diseases by not taking proper care of it. These simple routines can help bring our body back to active form and make way for a more productive life.
Now, start with the above tips tomorrow. There's no time like the present and your body will love you for it. Plus, you'll feel amazing!
Do you want crystal clear vision? 

Oregon iLASIK & Refractive 

can help you see the beauty of life with amazing clarity. For more information call 541.344.2010 or visit www.oregonilasik.com.