Oregon produces over a million gallons of ice cream each month – a clear reflection of the love for ice cream that people in this part of the world have. A number of popular ice cream brands have made their way out and become quite famous all over the state. Whether you talk about Tillamook, Alden's Organic or Julie's Organic
ice creams – they all have carved their niche in the heart of people all over the county.  But, in today's post we are going to talk about something that has come in Oregon's ice cream circuit as a breath of fresh air.
Dolce Mama's – the authentic creamery!
We are talking about a small-batch ice creamery located in Salem, known as Dolce Mama's.  Located at 333 State Street in Salem, right near the Reed Opera House's tiny first-floor storefront, the creamery has managed to win the hearts of people with its unique flavors in ice creams and authentic appeal. And, they are soon planning to move to a bigger space!
Bringing back the family feeling
Salem has always had this family-centric feeling woven around the town. And, when we talk about the ice cream shops in town, they are designed especially to bring that captivating feeling for kids. Whether we talk about the famous On Any Sundae or the oohs-and-aahs of Tysonberry's Chilliscious, they all have a peculiar appeal. And, in Dolce Mama's case they have made sure that this family centric appeal is not lost.
Dairy free options as well
One of the key items on the menu that you will get at Dolce Mama's is their unique dairy-free ice cream options. If you are someone who maintains fair distances from the dairy products, but does not want to miss out on the scrumptious fares of Dolce Mama's ice cream, this place is the perfect option!
And, it is all as fresh as anything!
What makes Dolce Mama's stand out in the crowd is the fact that they pay heed to ensuring freshness in every scoop and cone that they service to their customers. In the words of Jenna LoSciuto-Olivas, the owner of Dolce Mama's, "We make our ice cream week to week using the small two-gallon machine. Ice cream is mixed fresh to take care of the diminishing supply. We are happy with it, and don't intend to go large scale as of now as we can stay fresh as long as we stay small."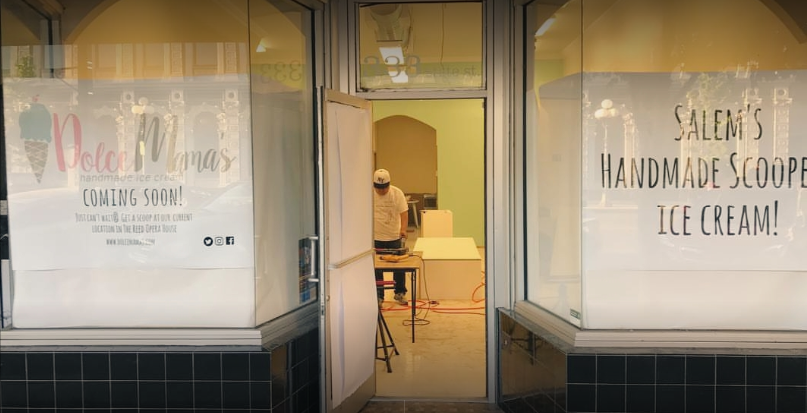 She further adds, "Fresh, local mindfulness is key to Dolce Mama's. And, we don't want to lose it." Locally produced with local fruits, locally sourced ingredients and lots of love – this is what makes Dolce Mama's perhaps the freshest and most mouth-watering ice cream in all of Salem, and maybe even Oregon!
If you have not tried it yet, then you are definitely missing out on something really refreshing and mind-blowing. Visit the Reed Opera House today, and see what this small creamery at the first floor has at offer for you. You are simply going to love the flavors and the taste of a real house made ice cream that Dolce Mama's ha
Do you want crystal clear vision? 

Oregon iLASIK & Refractive 

can help you see the beauty of life with amazing clarity. For more information call 541.344.2010 or visit www.oregonilasik.com.